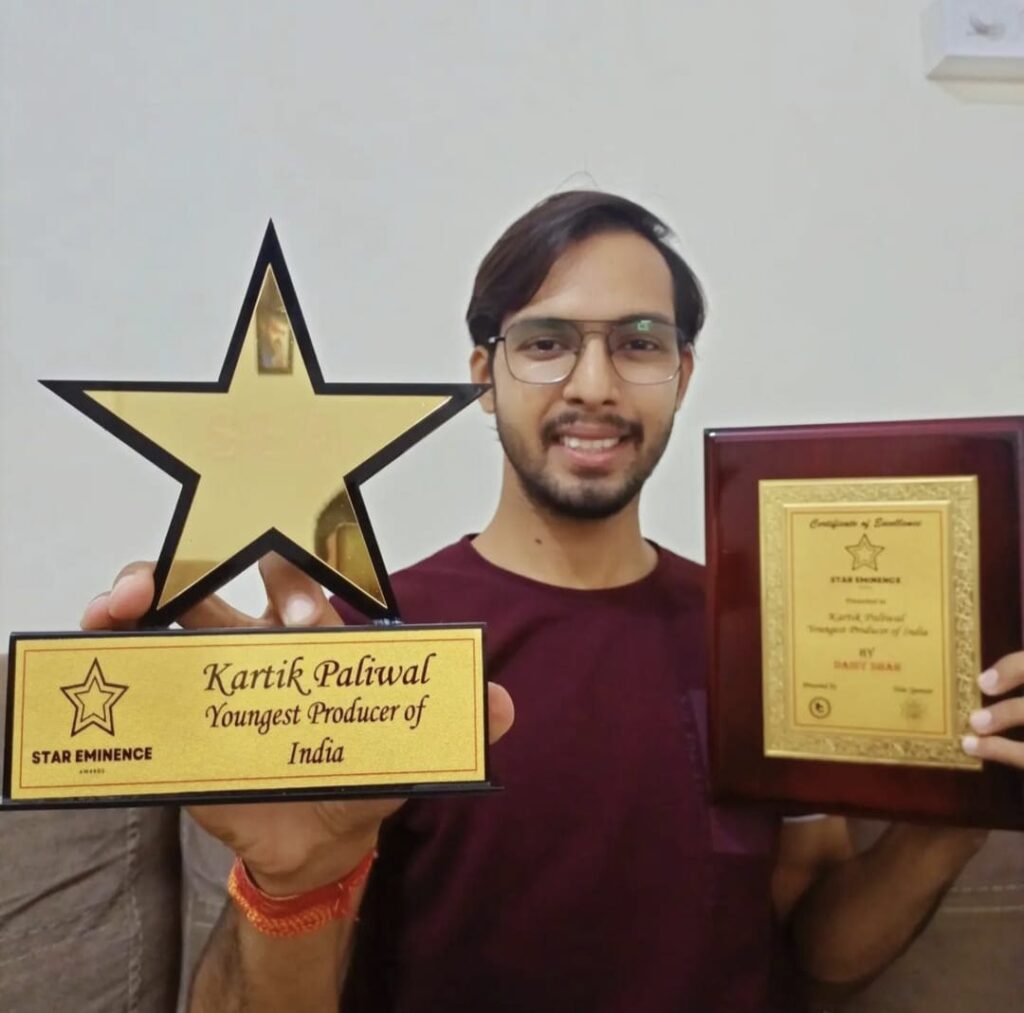 Kartik Paliwal, the founder of Paliwal Entertainments, has made a significant impact on the world of showbiz by extending a helping hand to new talents and providing them with a platform to showcase their skills. One such remarkable individual is Kartik Paliwal with kindness, generosity, and a genuine passion for helping others. His unwavering support and guidance have helped numerous budding actors and models find their footing in the industry, opening doors to their dreams.
Kartik Paliwal is a master storyteller, meticulously crafting tales that captivate audiences and leave a lasting impact. With his keen eye for unique narratives and his passion for delivering exceptional content, he has garnered immense acclaim as a producer. At the helm of Paliwal Entertainments, Kartik has created a haven for creativity and innovation. This production company serves as a launchpad for aspiring actors and models, providing them with a golden opportunity to showcase their talents to the world. Kartik's commitment to nurturing fresh talent shines through as he offers a supportive and collaborative environment, allowing individuals to shine and thrive in their artistic pursuits.
One of Kartik Paliwal's greatest passions is empowering and uplifting new talent. Recognizing the struggles that aspiring actors and models face in a highly competitive industry, he goes above and beyond to support them on their journey. Kartik provides guidance, mentorship, and valuable resources, allowing emerging artists to hone their skills and fulfill their dreams. His dedication to helping others succeed is a testament to his generosity and commitment to making a positive impact.
Kartik Paliwal, a remarkable figure in the entertainment industry, has shown an immense interest in organizing award shows. With his keen eye for talent and a genuine passion for celebrating artists, he has orchestrated numerous memorable events. His nurturing approach creates an environment of growth and collaboration, making the award shows not just ceremonies, but transformative experiences. His genuine care and kind-hearted nature have earned him respect and admiration, leaving a lasting impact on the hearts of all those who have had the pleasure of working with him.
Recently, Kartik Paliwal has added another feather to his cap by venturing into the world of production. His company, Paliwal Entertainments, has produced a soon-to-be-released song that is set to take the industry by storm. Titled 'Main Ho Gaya Tera,' the song features the most adorable couple, Sanjay Gagnani and Poonam Preet, who are making their on-screen debut together.
The poster of the song has already created a buzz, capturing the essence of love and showcasing the undeniable chemistry between Sanjay and Poonam. This project holds special significance for Sanjay as he will be sharing the screen with his real-life partner, making it a truly magical experience for both of them. Kartik Paliwal, along with the entire crew, has poured their heart and soul into making this project a masterpiece.
It is worth mentioning that Sanjay and Poonam's love story is like something out of a fairy tale. After dating for nine long years, they took the plunge and tied the knot, becoming the epitome of true love in the entertainment industry. The song 'Main Ho Gaya Tera' beautifully encapsulates their love, promising to be a visual delight for fans and audiences alike.
In a blaze of excitement, 'Main Ho Gaya Tera,' crafted by the visionary Kartik Paliwal and brought to life by Paliwal Entertainments, has taken the world by storm, accumulating a staggering 1 million views. This mesmerizing release is an embodiment of Kartik Paliwal's unyielding dedication to perfection, radiating an irresistible aura of delight and pure entertainment that has left fans everywhere spellbound.