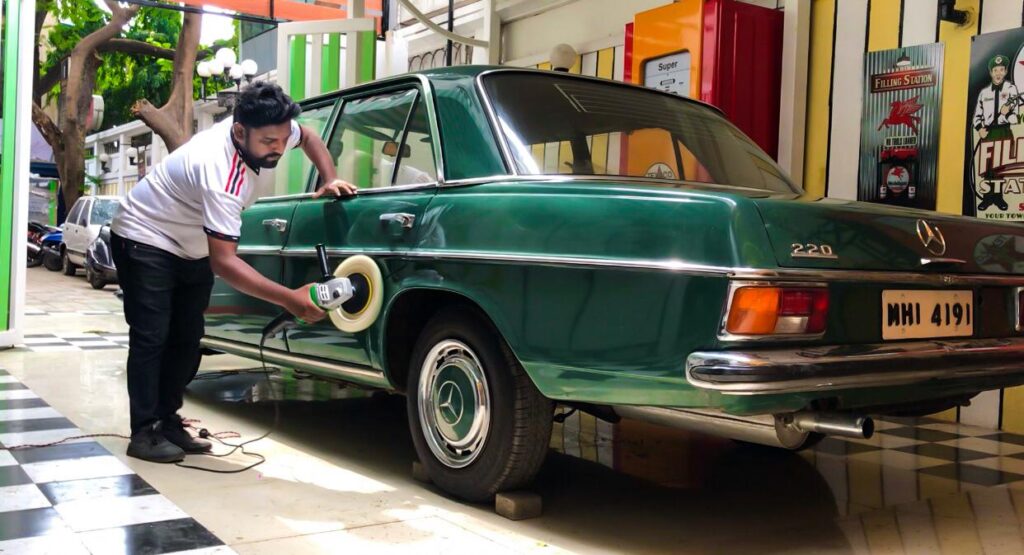 Sparsh Medhe, the passionate owner of Sparsh Auto Polishing Centre, has etched his name as a distinguished celebrity car detailer, showcasing his mastery of the art of detailing. His business has flourished, attracting a prestigious client list that includes celebrities and VIPs who seek the royal touch for their beloved vintage and classic cars.
Sparsh Auto Polishing Centre stands tall among India's leading independent car detailing service providers. A family-run establishment, they have gained a stellar reputation over their 12 years of experience in the industry, known for their commitment to delivering exceptional results and providing unmatched customer service.
Recently, Sparsh and his team had the honor of participating in an awe-inspiring rally held in Pune, a spectacular event organized by the illustrious Subhash Sanas of the Subhash.B.Sanas Vintage and Classic Vehicle Museum. The rally was graced by esteemed members of the VCCI, vintage car owners, and showcased an incredible array of vintage and classic cars belonging to both Bollywood and Hollywood stars.
Vintage gems like the Dodge Kingsway, once used by Netaji Subhash Chandra Bose and his family, the iconic convertible Impala formerly driven by former Prime Minister Indira Gandhi, and cars owned by renowned celebrities such as Al Pacino, Amitabh Bachchan, and Vinod Khanna, were among the stars of the event. The rally also boasted exceptional displays, including the 1933 Pebbles Beach USA winner owned by Elvis, Shekhar Chavarekar's oldest car, a 1919 Over Land, a magnificent 1956 Dodge, the oldest motorcycle—a 1938 Norton 500—and other remarkable pieces. Notably, Pune's very own Dr. Prabha Nene, India's oldest rally driver, piloted an Austin 7 during the rally.
The participation of revered car models like Rolls Royce, Bentley, Mercedes Benz, Chevrolet, Morris Convertible, Austin, Ford, and other foreign classics made the rally a mesmerizing spectacle. Numerous vintage and classic car enthusiasts, including notable individuals such as Dhananjay Badamikar, Dahanukar, Evan Poonawala, Zaheer Vakil, and the Sabale family, proudly displayed their cherished collections.
At Sparsh Auto Polishing Centre, they recognize the significance of preserving the allure of cherished vehicles. This dedication drives them to offer only the finest products sourced from over 50 top-tier car care brands. Whether it's car ppf, ceramic coatings, paint correction treatments, or a simple car shampoo, they strive to provide the most innovative solutions to meet the unique needs of every client.
Sparsh's team of highly trained and experienced UF Experts takes immense pride in their work. They are driven by their passion for delivering exemplary customer service and always go above and beyond to ensure complete satisfaction. The exceptional Google ratings, with numerous customers awarding them a perfect five-star score, serve as a testament to their commitment and expertise. Sparsh Medhe's journey from a car enthusiast to a celebrity car detailer has been nothing short of extraordinary. His artistry and attention to detail have made him a trusted name in the industry, and Sparsh Auto Polishing Centre has become the go-to destination for car owners who seek perfection for their prized possessions. With his continuous pursuit of excellence, Sparsh Medhe continues to redefine the standards of car detailing, leaving an indelible mark on the world of automotive beauty.
If you have any objection to this press release content, kindly contact editor[at]up18news.com to notify us. We will respond and rectify the situation in the next 24 hours.
Tags : Sparsh Auto Polishing Centre , Sparsh Medhe